The Permanent Secretary, Ministry of Defence, Dr. Ibrahim Abubakar Kana, mni has reaffirmed the Ministry's commitment to reforming the education sector of the Armed Forces Primary, Secondary and tertiary institutions.
Dr. Kana stated this during a meeting with the Directors of Education Services Department of the Ministry and the tri-services held at the Conference room, Ship House, Abuja.
The Permanent Secretary noted that Education, as well as Health sectors are the key aspects in the ongoing reform of the Ministry, adding that the Ministry's role is to provide policy direction and equip the Armed forces, in response to the educational and medical needs.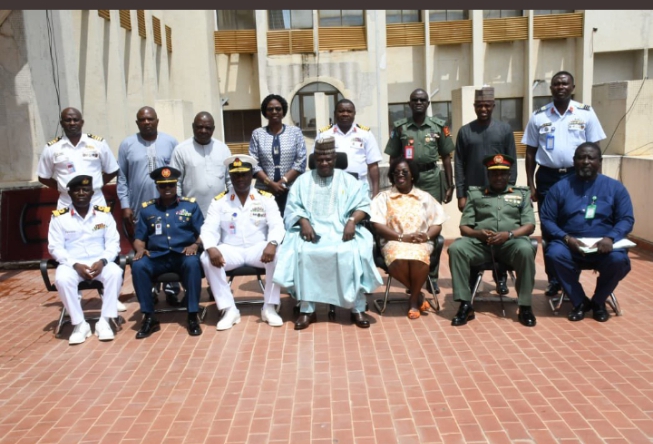 According to the Permanent Secretary, "the Armed Forces must be given the best in Health care to rival the best facilities in the world and to reposition the Armed Forces schools, as this will boost the morale and fighting will of the Armed Forces," he said.
Dr. Kana further stated that funds have been channeled to prioritize education assuring the personnel that their children will have the best education, as obtainable around the world.
The Permanent Secretary stressed that due process using the Public Service Rules should be strictly adhered to during recruitment.
The Director of Education Service Department, Ministry of Defence, Mrs. Taiwo in her welcome address said the meeting is to encourage synergy among stakeholders of the Armed Forces.
She said that 'the meeting is part of the processes of keying into the reform of the Ministry of Defence including full implementation of the reform relating to Education and Health to reposition the sectors to meet best practice.'
According to Mrs. Taiwo, the meeting will also proffer ways to improve on the accomplishments recorded by the schools over the years with a view to achieving the National Policy on Education standards in all schools.
Maureen Ukoh & Gbemisola Adelaja
For: Director (Press & PR)
13/10/2022