The Minister of Defence Maj Gen Bashir Salihi Magashi (rtd) has been confered with the National Honour Award of the Commander of the Order Federal Republic, CFR. alongside other distinguished Nigerians.
This was at the colourful ceremony for the 2022 National Honour Awards Investiture held at the International Conference Center, Abuja.
The award of CFR confered on the highly distinguished General Magashi brings to two CFRs and one Commander of the Order of Niger, CON received by him from three Nigerian Leaders. Namely the one confered on him by the Former Head of State General Abdulsalam Abubakar, GCFR, (listed and gazetted but investiture deferred ) that of President Goodluck Jonathan,GCFR and now by President Muhammadu Buhari, GCFR.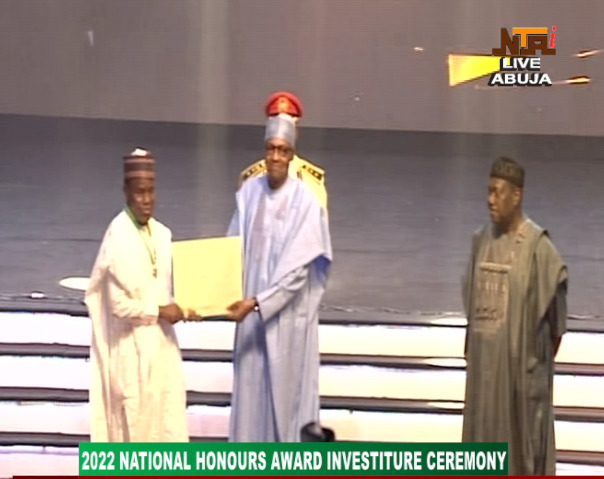 By these three Awards, General Magashi's selfless and patriotic Service to the Nation under the Military and Democrtic dispensations have been gazetted for posterity.
No doubt history will be kind to Magashi anytime reference is being made to the National Awards of Hall of Fame as one Nigerian whose name has been carved in gold to behold by the present and future generations of Nigeria extraction and by extention of African descents.
As at 1964 when National Honour and awards was institutionalised by Act of Parliament, the young Magashi then was in Post Primary School unknown to him that he was coming up to be so recognised as record breaker for Scoring Art – tricks in its hall of fame.
Without being economical with due sense of truism in the face of verifiable facts this unassuming, humane and humble Nigerian is one of the most recognised, and decorated retired Gentleman Officer who paid his dues in the Nigerian Military as he rose through the ranks to attain the enviable rank of Major General.
He is by dint of harwork, patriotism and gallantry a recipient of Distinguished Service Star, DSS, Meritorious Service Star, MSS and Forces Service Star, FSS while his decorations include ECOMOG Medal and Silver Jubilee Medal.
This General of Generals whose uncommon valour and vigour in Nation building will remain a reference point for many more years to come is no doubt a sellable Nigerian brand that is deserving of all the National recognitions which will in turn inspire the young ones to know that patriotic service to the nation can't go unrewarded.
As a democrat par Excellence the former Governor of Sokoto State served in various capacities as Lawyer – politician in Kano State and at the National levels before he was appointed a member of the Federal Executive Council FEC, by virtue of his appointment as Minister of Defence by President Muhammadu Buhari since 2019.
Without being judgemental and sentimental his Performance fact – check as Minister of Defence reveals that Magashi has practically changed the narratives in the Ministry through one form of administrative reform or the other to reposition it.
Under his watch Staff of the Ministry enjoy regular training and retraining opportunities, emplaced culture of harwork and harmonius working relationships between the Civilian and Military elements.
Aside the National honour awards Major General Bashir Salihi Magashi (rtd) CFR has bagged various National, International and Institutional awards in addition to being a Fellow of some professional bodies which are to his enviable personality.
All hailed retired but not tired infantry General when he marched forward smartly to receive a new feather to his cap of honours from his boss and Commander-in-Chief of the Armed Forces, President Muhammadu Buhari who confered CFR on him.
In a post investiture remarks the Defence Minister thanked the president for the award and dedicated it to the gallant troops pointing out that he will continue to reinvigorate service to the Nation.
SIGNED;
Mohammed Abdulkadri Special Assistant to the Minister of Defence on Media and Publicity
11th October, 2022