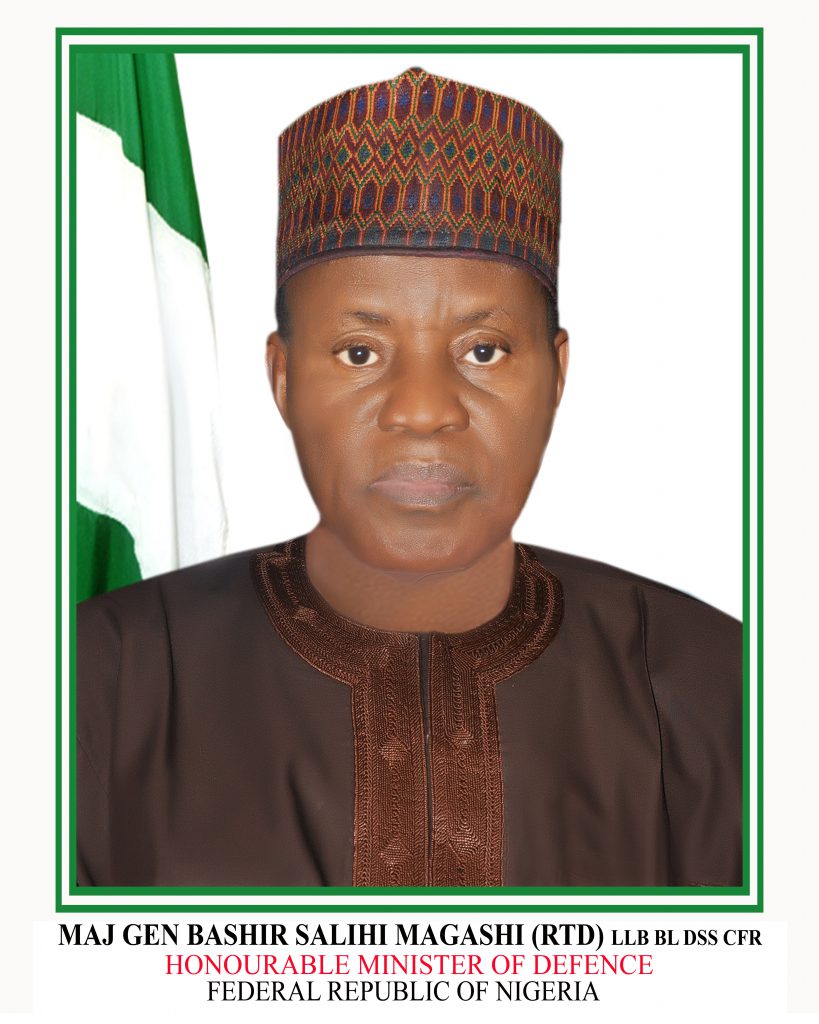 MAJOR GENERAL BASHIR SALIHI MAGASHI (RTD) was admitted to the Nigerian Defence Academy in 1968 and commissioned into the Nigerian Army in 1971 as a member of the 5th Regular Combatant Course. He also attended the prestigious Ahmadu Bello University in Zaria where he obtained an advanced Diploma in Public Administration, LLB Honors and a call to the Nigerian Bar with a BL Hons in 1984.
He started his career as a platoon Commander and later became Company Commander at the historic and elite 6 infantry Battalion (Bn) of the Nigerian Army. He was later deployed as Adjutant 1st Guards Battalion Bn and later Commander of The 4 Guards battalion in Epe Lagos; He was also Commander 93 Mechanized Bn and Commander 192 Mechanized Bn. He also served as Deputy Military Secretary (DMS 2)1984-1985 and (DMS 1)1985-1987 at the Army Headquarters (AHQ MS A), Cadets Brigade Commander in Nigerian Defence Academy1988-1990 and as the Commander 7 Mechanized Infantry Brigade in Sokoto in 1990.
The General was, later appointed as Commander of the 15 Brigade of the ECOWAS Monitoring Group (ECOMOG) mission in Liberia in
1992 before Commanding the Nigerian Contingent Force in 1993. He served as Commander of The Guards Brigade in Abuja from 1993-96. General Magashi subsequently rose to become General Officer Commanding (GOC) 2nd Division Ibadan and later proceeded to the Lagos Garrison Command as Command. He finally retired from the Nigerian Army as Commandant, Nigerian Defence Academy Kaduna from 1998-1999 as his last official engagement as a Military Officer.
He was a member of the Provisional Ruling Council from 1996-1999, a member of the Association of Humanitarian Lawyers and equally an Honorable Member of the Nigerian Red Cross Society.
He has attended various Leadership and Management courses both home and abroad. He is a graduate of the International Institute of Humanitarian Law (IIHL) in Italy and a Member of the Senior Executives Course 14 of the National Institute of Policy and Strategic Studies Kuru in Jos.
He is a recipient of the Forces Service Star (FSS), Meritorious Service Star (MSS) and The Distinguished Service Star (DSS). His decorations also include the ECOMOG MEDAL and Silver Jubilee Medal. He has also received distinguished National awards and titles including Commander Order of the Niger (CON) and the prestigious Commander of the Federal Republic (CFR).
Major General Bashir Salihi Magashi (Rtd) was one time the Military Governor of Sokoto State in Nigeria from August 1990 to
January 1992. In the political sphere, he was in 2002 the legal adviser to the ALL Nigerian Peoples Party ANPP and in 2007, the Kano State governorship candidate of the Democratic People's Party (DPP). He later became the National Chairman of the party before finally retiring from politics in 2014
He is married, blessed with children and enjoys reading, football and Athletics. He also occasionally plays golf.