…Charges the College on Knowledge Based Armed Forces
The Honourable Minister of State for Defence, Dr Muhammed Bello Matawalle, MON, has charged the National Defence College NDC to develope curriculum to enable the College produce knowledge based Armed Forces.
Matawalle gave the charge as a Special Guest of Honour at the inauguration of Course 32 of the National Defence College, in Abuja.
Addressing the participants, he said that Federal Government would not relent in building a resilient Armed Forces in the face of unpredictable economic and environmental conditions as response to risk that may threaten national security, economic prosperity and societal wellbeing.
The Minister reiterated  Mr. President's commitment in combating corruption and improving the economy of Nigeria.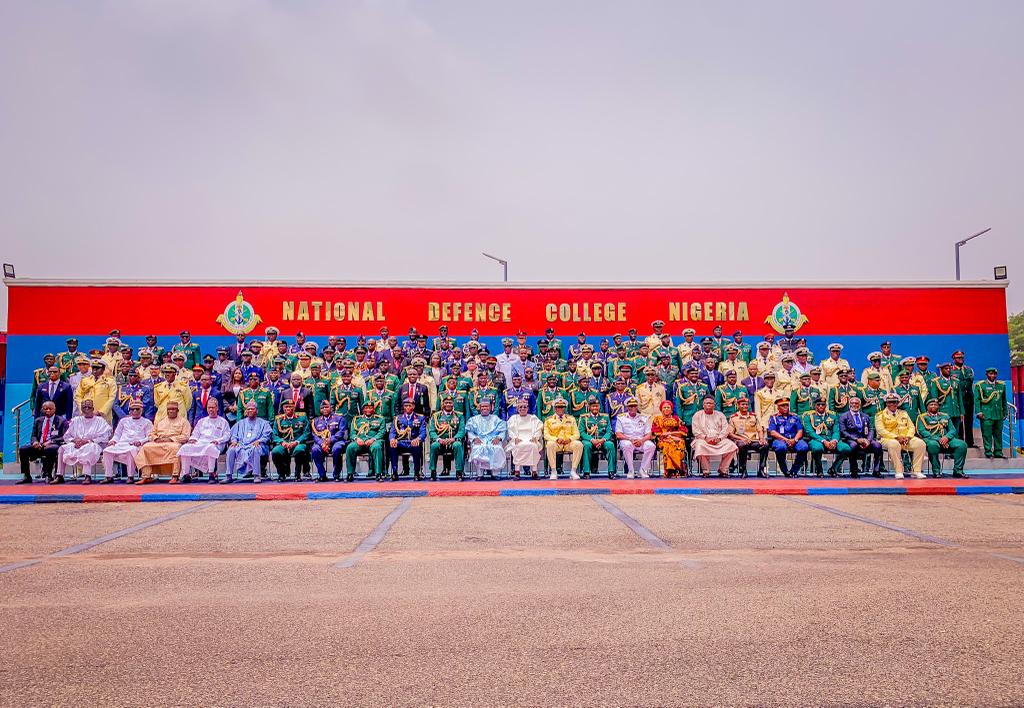 Honourable Minister of State for Defence, Dr Bello Muhammed Matawalle MON, Permanent Secretary, Ministry of Defence, Dr Ibrahim Abubakar Kana mni, Chief of Defence Staff, Gen. CG Musa, Cmdt of NDC, Rear Admiral OM Olotu in group photograph with Participants of NDC Course 32 at the inauguration ceremony. 
The Guest Speaker at the occasion, the Permanent Secretary of Defence, Dr. Ibrahim Abubakar kana mni who spoke on the topic: "Strengthening National Unity for Security and Development in Nigeria" pointed out that Nigeria is blessed with people born with talents and capacities to produce and develop.
"There may be challenges today, but I assure you that Nigeria will soon take its rightful place because of the realization of the importance of human capital development," he said.
The Commandant of the National Defence College, Rear Admiral OM Olotu expressed appreciation to Federal Government for the unflinching support to the College. 
Rear Admiral Olotu urged the participants to use the opportunity to prepare for higher responsibilities and establish a strong bond of friendship.
It is worthy to note that 108 members participated at this year Course 32, and out of that figure, we had total number of 15 foreign participants.
Attari M. Hope
Ag. Director (Press & PR)
7/10/2023