President Bola Tinubu has reaffirmed his commitment in providing adequate security for all Nigerians in every region of the country. 
The President declared this while speaking as the Special Guest of Honour at the graduation ceremony of Senior Course 45 of the Armed Forces Command and Staff College, Jaji, Kaduna State, recently. 
Speaking at the event, Mr. President spelt out the National objective of his administration with emphasis on ensuring national security, justice and democratic prosperity through state power.
He said: " As commander-in-chief, I have given myself the following charge: to deploy the entire machinery of state power to ensure security of our people and property in a just and democratic society."
Mr President commended the graduating officers and described the military officers serving Nigeria as the best group that can defend the territorial integrity of Nigeria. 
Two hundred and Ninety one participants across Nigerian Armed Forces, foreign officers and civilians from different Ministries Department and Agencies graduated and were conferred with the Pass Staff Course (PSC) honour. 
Speaking with journalists at the ceremony, the Permanent Secretary Ministry of Defence, Dr Ibrahim Abubakar kana mni who was accompanied by the Principal General Staff Officer, Brig. Manu reiterated Mr President commitment in supporting the Nigerian Armed Forces 
He commended the Nigerian Armed Forces in their efforts in combating terrorism and lauded what he called milestone achievements the esteemed military institution is playing in raising the bar of robust professional competence  of the Armed Forces of various nations. 
The Commandant Armed Forces Command and Staff College, AVM Hassan Idris Alhaji in his welcome address described the graduants as worthy in characters learning and professionalism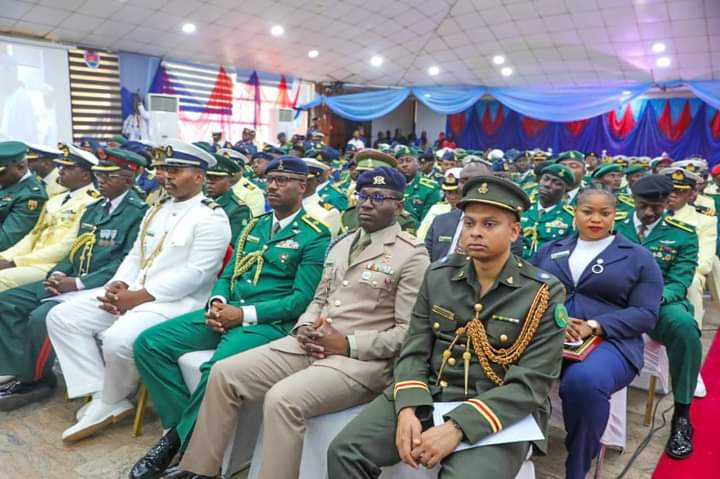 In attendance at the ceremony were the governor of Kaduna State, Permanent Secretary Ministry of Defence,  Nation Security Adviser to the President representative of the Senate President and the Speaker of House of Representative and  the Service Chiefs. 
Victoria Agba- Attah – Director ( Press & Public Relations)24/07/2023