The Minister of Defence, Mohammed Badaru Abubakar CON, mni has assured the Nigeria Veterans of Federal Government's commitment in the provision of better welfare to them and their families.
The Minister gave the assurance when he received the Executives of the Veteran Association of Nigeria on Wednesday, 8th November 2023 in Ship House, Abuja.
He stated that Federal Government was working on an existing structure that would be all inclusive in terms of the welfare of the Veterans and their families.
Speaking on the Security Debarment Allowance (SDA), the Minister stated that the (SDA) would be paid in two trenches adding that salaries would be adjusted upward to cushion the effects of fuel subsidy removal.
"Also, the National Health Insurance scheme is being reviewed to cover the Veterans  among others," he said.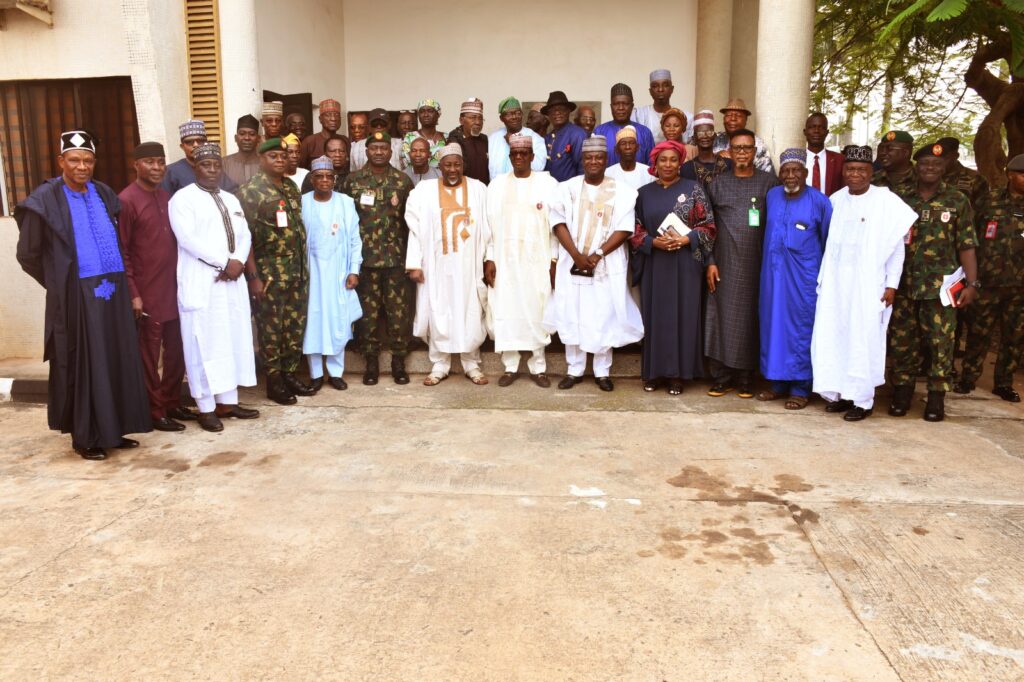 Minister of Defence, Muhammad Badaru Abubakar, Minister of Defence for State, Dr Muhammad Bello Matawalle, Ministry's Permanent Secretary, Dr Ibrahim Abubakar Kana, management staff of the Ministry and Veterans in  a group picture in Ship House, Abuja
To drive the process of achieving the all inclusive welfare package for the Veterans, the Minister directed that a 5-man Committee from the fifteen different Associations be set up to drive further engagements with the Ministry in finding way forward.
On his part, the Honourable Minister of State for Defence, Dr Mohammed Bello Matawalle MON said that the Ministry is committed in supporting the Veterans who have fought tirelessly in keeping Nigeria as one and in maintaining the territorial integrity of the nation.
Earlier in his opening remarks, the Permanent Secretary of the Ministry, Dr. Ibrahim Abubakar kana mni, said that the approved (SDA) by the Government has been given to the Military Pensions Board for onward payment to Veterans.
Henshaw Ogubike mnipr
Director (Press & Public Relations )