The Minister of Defence Maj Gen Bashir Salihi Magashi ((rtd) CFR has assured that the welfare and training of soldiers remain a top priority of this administration and the Federal Government in order to boost their morale.
General Magashi gave this assurance while on a one day duty tour at the Nigerian Defence Academy, Kaduna to commission some projects.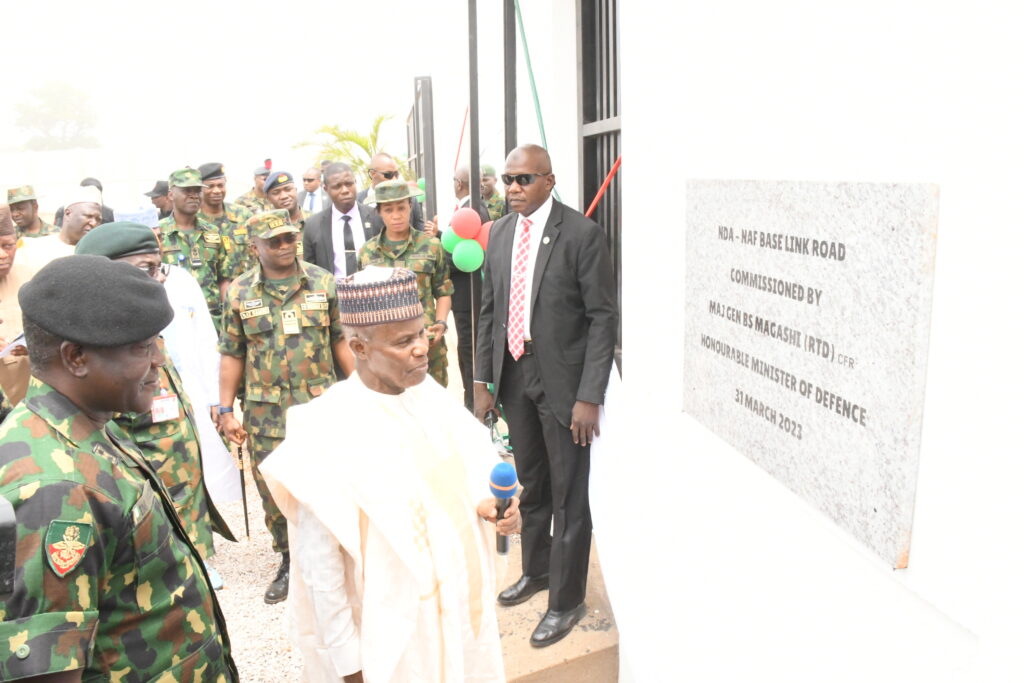 The Commandant, Nigerian Defence Academy, (NDA) Maj General Ibrahim Manu Yusuf led the Minister of Defence to inspect the newly completed concrete perimeter fence project around the academy.
Camp Deep Punch was next with a behive of demonstrations by the Cadets who displayed combat skills in maneuverability after the Defence Minister cut the tape in honour of twenty four fallen heroes who in the rare display of valor, loyalty, resilience and integrity in line of training lost their lives.
In his honour as the Special Guest, General Magashi who had served as Commandant of the NDA from July 1998 to January 1999 also commissioned the newly completed NDA-NAF link road, an edifice named after him "MAJ GEN BASHIR MAGASHI GATE" which he described as a great honour done to him.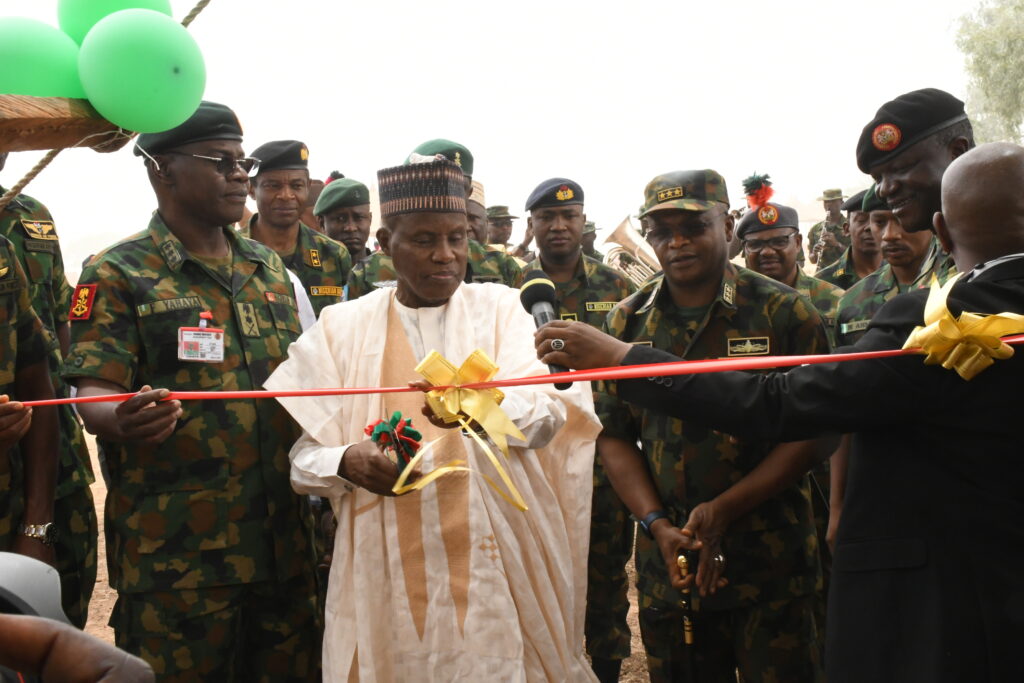 The climax of the fleet of engagements of the Minister in the Academy was the Assault River Crossing demonstrations by the Cadets of the NDA 70 Regular Course
Fielding questions from the journalists the Defence Minister commended NDA Commandant for transforming Institution with quality infrastructure dotting its landscape.
He added that the Ministry of Defence will continue to improve on the welfare and trainings of soldiers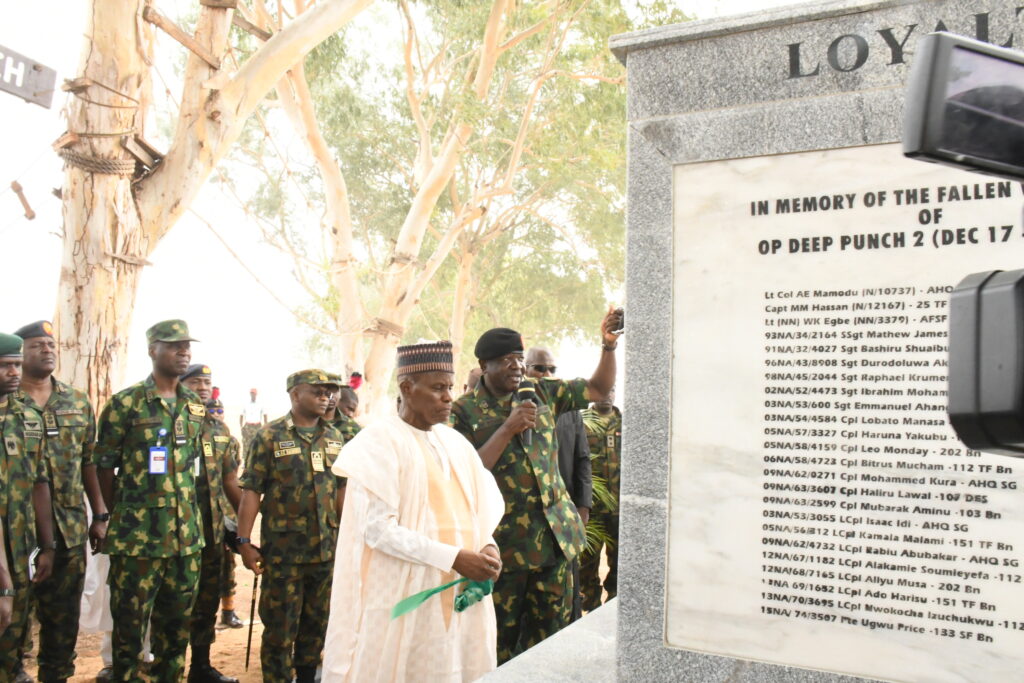 While appreciating the Minister of Defence for commissioning the projects which he said will enhance the security architecture of the Academy the NDA Commandant Maj General Ibrahim Manu Yusuf thanked the Chief of Defence Staff General Leo Irabor and the Service Chiefs for their supports to the Institution.
Before leaving kaduna, the Minister took time off his schedules at NDA to inspect the Amunition Production Line "B" of the Defence Industries Corporation of Nigeria (DICON) which was razed down by fire last week.
 The Director General of the DICON Major General Hassan Tafida also conducted the Minister and the Service Chiefs round the ORDFAC "E" 7.62 X39 Special Production line.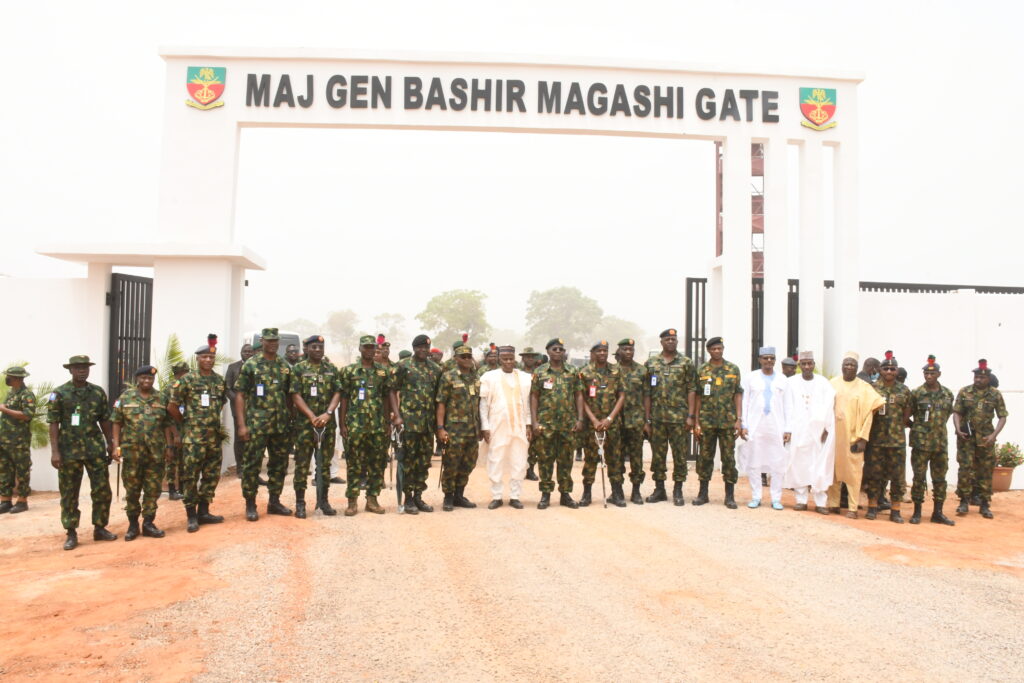 In company of the Honourable Minister at the commissioning were the Chief of Army Staff Lt General Farouk Yahaya, the Chief of Naval Staff Vice Admiral AZ Gambo and the representative of the Chief of the Air Staff, Air Marshal Isiaka Oladayo Amao and top management staff of the Academy.
Mohammad Abdulkadri & Attari Hope
3rd April, 2023