In a bid to conserve foreign exchange on the importation of Military, Paramilitary uniforms, accessories and also boost the employment opportunities for the teaming Nigerian youths, the Nigerian and Turkish Governments have agreed to establish a Clothing and Accessories Factory in Kaduna, Nigeria.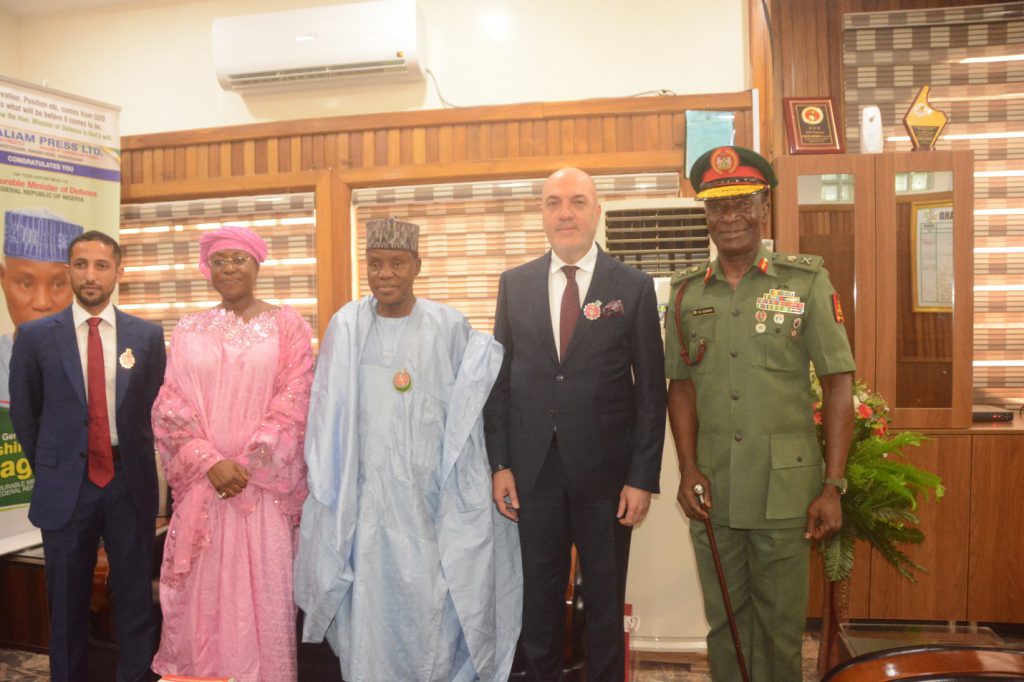 Addressing the audience during the signing of the agreement to seal the understanding between the duo, the Minister of Defence, Maj. Gen. Bashir Salihi Magashi (Rtd.) said that the partnership resulted from a presidential directive on the need to meet the requirements of the Armed Forces of Nigeria by looking inwards towards the local production of uniforms, accessories, arms, ammunition, defence related equipment and hardware.
Gen. Magashi said, in line with the recommendations of the presidential Committee, the Ministry of Defence commenced the review of the operation and structure of the Defence Industry Corporation of Nigeria (DICON) to position the Corporation towards enhanced production and efficiency.
The Minister further explained that DICON, leveraging on these efforts and initiatives invited Sur-Corporatewear Company of Turkey through the Infrastructural Concession Regulatory Commission and the Nigerian Investment Promotion Commission to express their desire to establish a Military and Paramilitary clothing factory in Nigeria.
He pointed out that the Project, apart from conserving Nigeria's foreign exchange as stated earlier, would revitalize the country's Textile Industry through the development of cotton farms and modern cotton milling plants across Nigeria thereby providing employment and increasing the Gross Domestic Product.
Gen Magashi disclosed that a total sum of US13million would be invested into the project describing it as a new chapter in achieving self-sustenance in the provisions of the basic needs of Armed Forces of Nigeria
In his remarks, the president of Sur-Corporatewear Company of Turkey, Mr. Oketey Ercan expressed hope that the project would further generate multiple initiatives for the benefit of both Nigeria and Turkey.
The Director General, Infrastructural Concession Regulatory Commission Dr Chidi Izuwah represented by Mr. Michael Ohiani said the agreement is a translation of the Federal Government's commitment to widen the Made in Nigeria efforts.
He promised that Nigeria would through the ICRC remain investor friendly and would treat PPP requests with all intent of purpose.
Delivering the vote of thanks, the DICON Director-General, Maj. Gen. Victor Okwudili Ezugwu appreciated the Federal Government for its initiative to reposition DICON with a view to enhancing its production capabilities and efficiency.