DIRECTOR (HEALTH SERVICES) – DR. OLUWATOYIN AKINLADE
---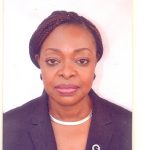 Dr. Oluwatoyin Akinlade, hails from Mopa, Kogi State. She graduated from Ahmadu Bello University, Zaria in 1986 and completed her Fellowship training in Otorhinolaryngology (ORL) at the Lagos University Teaching Hospital in 1996, bagging Fellowships of both the West African College of Surgeons (WACS) and the National Post Graduate Medical College of Nigeria (NPMCN). She is also a Fellow of the International College of Surgeons (FICS) and a member of the American Academy of Otorhinolaryngology and Head & Neck Surgeons (AAO-HNS).
Dr. Akinlade has served several terms on the ORL Faculty Boards of both NPMCN and WACS from 2004 till date, and is an examiner for all levels of Fellowship examinations in both ORL faculties. She was the President of the Otorhinolaryngological Society of Nigeria for 2 terms, from 2014 to 2016.
She joined the Ministry of Defence as a Medical Officer in 1989 at the 68 NARHYaba, Lagos State. After her Post graduate training, she worked at the Military Hospital Lagos, until 2016, when she was posted to the MOD HQ and assumed duty in her current position as the Director, Health Services Department, Ministry of Defence.